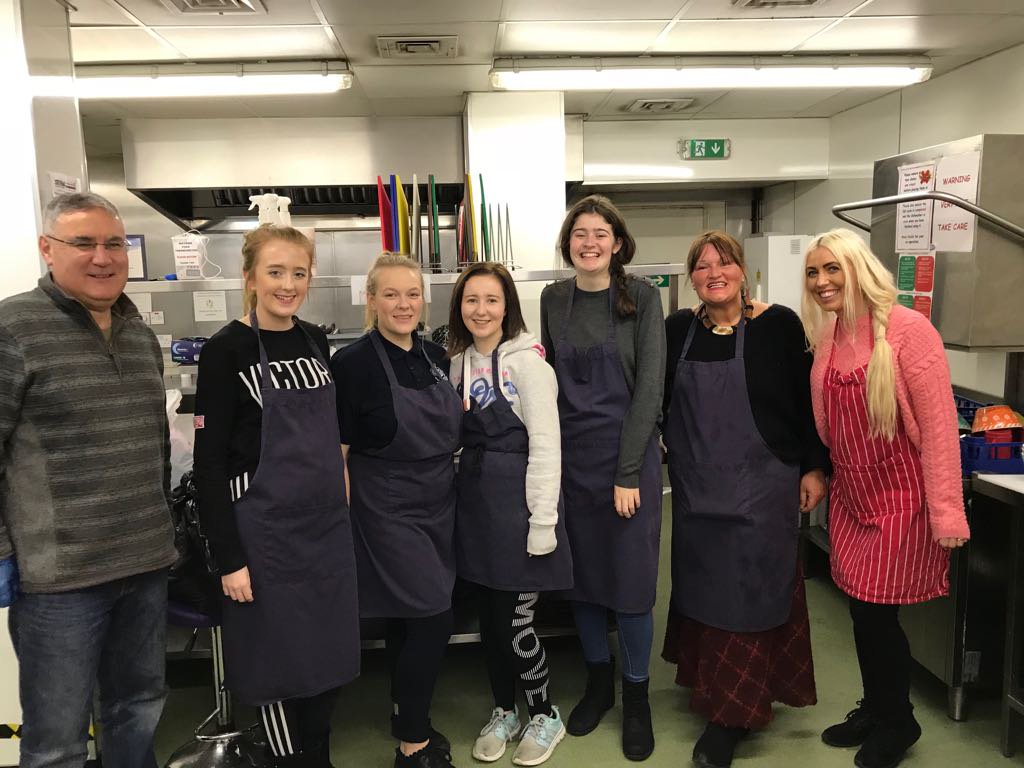 Heather, Rebecca, Maddison and Niamh at the Wayside Club
Shortly before Christmas, I was one of the Caritas students who visited Glasgow's Wayside Club. Myself and three other girls travelled up on a Tuesday evening to help assist the dedicated volunteers, many of which have been helping at the club for many years. The club wouldn't exist without these selfless individuals who have devoted themselves to helping others. We spent three hours at the club, helping to prepare and serve the dinner for the homeless frequenters and even helping to run their nightly bingo game, a much anticipated and intense game that is enjoyed by all.
When we were informed in our Caritas classes that this opportunity to volunteer at the Wayside Club would be available, I felt driven to sign up because it felt it was a more direct way to volunteer. It allows you to see first-hand how an act of charity impacts on the lives of others.
Although I had previously taken part in the Wayside Christmas dinner at St John's Church, before we arrived there was a nervous feeling I couldn't shake. Luckily, all the people who made use of the club's services were so polite that this quickly disappeared.
All the volunteers were especially kind and welcoming, and the experience was quite eye-opening to the goodwill of the people of Glasgow. The club is entirely funded by donations, and we were informed that local hairdressers and barbers would visit and offer free haircuts. I was pleasantly surprised to see that a local Pret-A-Manger donated sandwiches and salads to the club.
It was an extremely worthwhile experience, and I would definitely consider returning to volunteer again.
By Niamh McLaughlin