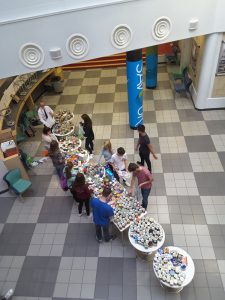 What is the aim of the group?
To serve the local community wherever they need it like the founder Frederic Ozanam.
What kind of tasks are members of the group met with?
At our weekly meetings we start with a prayer followed by a reflection piece one of our members will have created. We then talk about the work achieved the previous week, plan for the following week, and then close with a prayer. On the Monday following food bank Friday we pack up the food for the foodbank.
How does the group help others?
Foodbank Friday, food parcels, Playlists for Life, Winter coolies campaign…
The group try and support as wide an area of the community as possible. With out Winter Woolies Campaign hats, gloves and scarves were donated to the homeless. A number of iPods and earphones were donated to the Playlist for Life campaign to help those with dementia. Our members collect non-perishable foods on a monthly basis from the school community and packages them up for donations to the foodbank. Some of our members work and have worked in the the foodbank at the weekends. The parishes are extremely grateful for the food parcels and at Christmas and in recent years the number of made up has increased greatly so thank you to all for their contributions.
What has the group achieved in the past years?
The group has supported the local foodbank for a number of years now and this has been a great support for them as it is a constant supply. They find that they have busy periods for donations but the need for food parcels is always there. We also make up food parcels to give out to the parishes for those in need over Christmas.
What are the aims for members this year?
We are looking for our members to of out into the local care homes to give technical support for IPads, IPods and IPhones, We also will continue with our highly successful Foodbank Friday project.
An Interview by Chloe O'Neil