What is Rights Respecting Schools?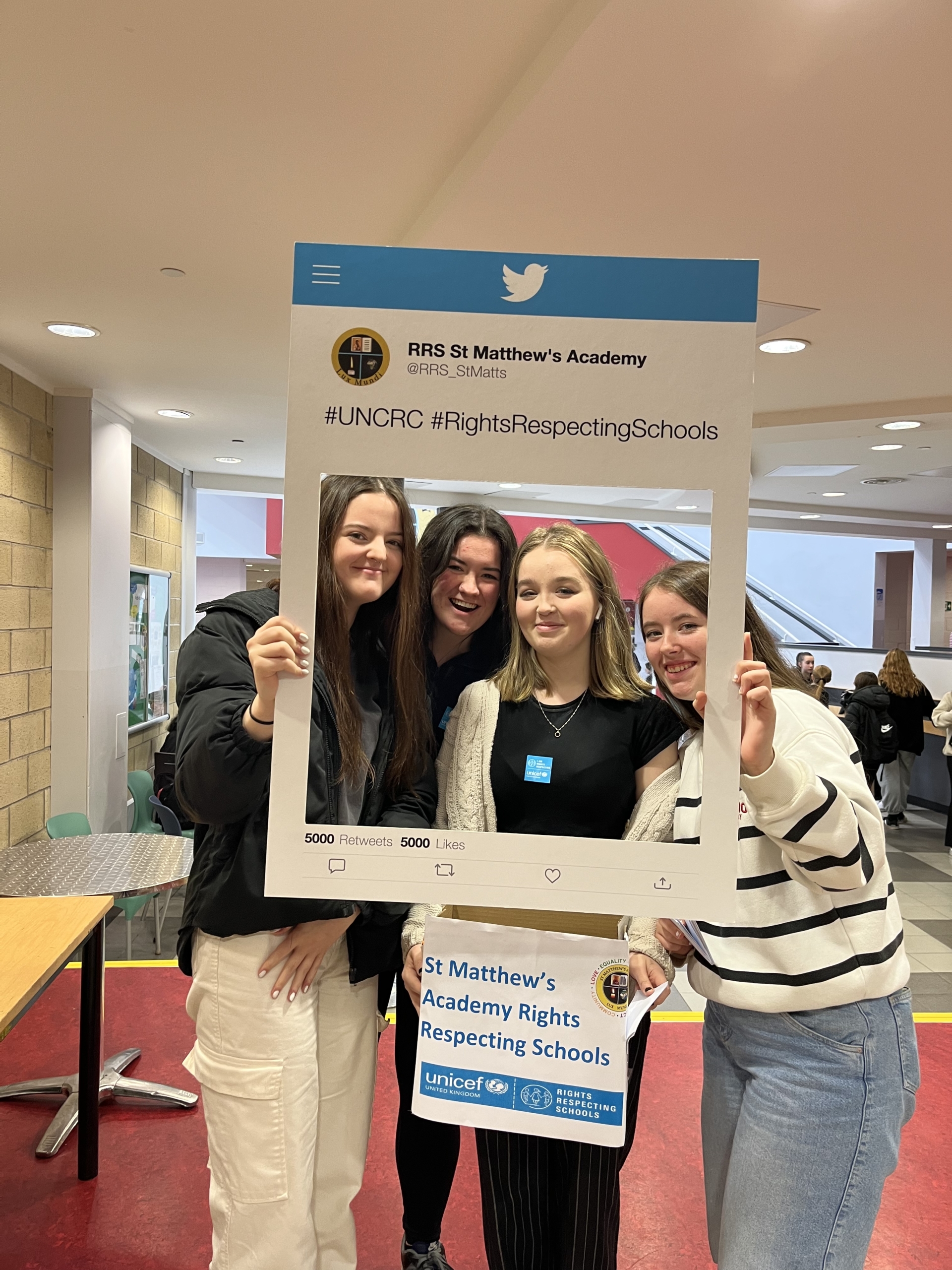 Rights Respecting Schools is all about putting children's rights at the heart of schools in the UK. The UN Convention on the Rights of the Child (UNCRC) was created in 1989 and contains 54 articles that set out rights that all children have. Rights Respecting Schools is about promoting these rights, raising awareness of these rights and fully embedding these within schools. The aim is that this will give children the best chance to lead happy, healthy lives and to be responsible, active citizens who speak out for their own and other people's rights.
There are 3 Rights Respecting Schools awards to be achieved – Bronze, Silver and Gold. Schools work towards the Gold Award progressing through these stages.
To access the UNICEF Rights Respecting Schools website, please click here.
To access a copy of the UNCRC, please click here.
Where is St Matthew's Academy in the Rights Respecting Journey?
St Matthew's Academy achieved the Gold Rights Respecting Schools Award after a successful visit in March 2023. This means that we are fully "Rights Respecting". Our target now is to sustain and build on this success by continuing to strengthen children's rights within and beyond our school community. 
Children's rights are embedded in the daily running of St Matthew's Academy where the best interests of the child are at the heart of everything we do and pupils are involved in the school's decision-making.
Some examples are:
Learning about rights issues in lessons across the curriculum such as Modern Studies, Geography, Guidance and RMPS
Breakfast club
Spare uniform, foodbank appeals and 'Take what you need' cupboard
Wellbeing Ambassadors, Nurture base and Guidance
Extra-curricular activities
Pupils Leadership, Pupil Voice Forums and Pupil Council
Rights Awareness activities
Our Rights Respecting School's Charter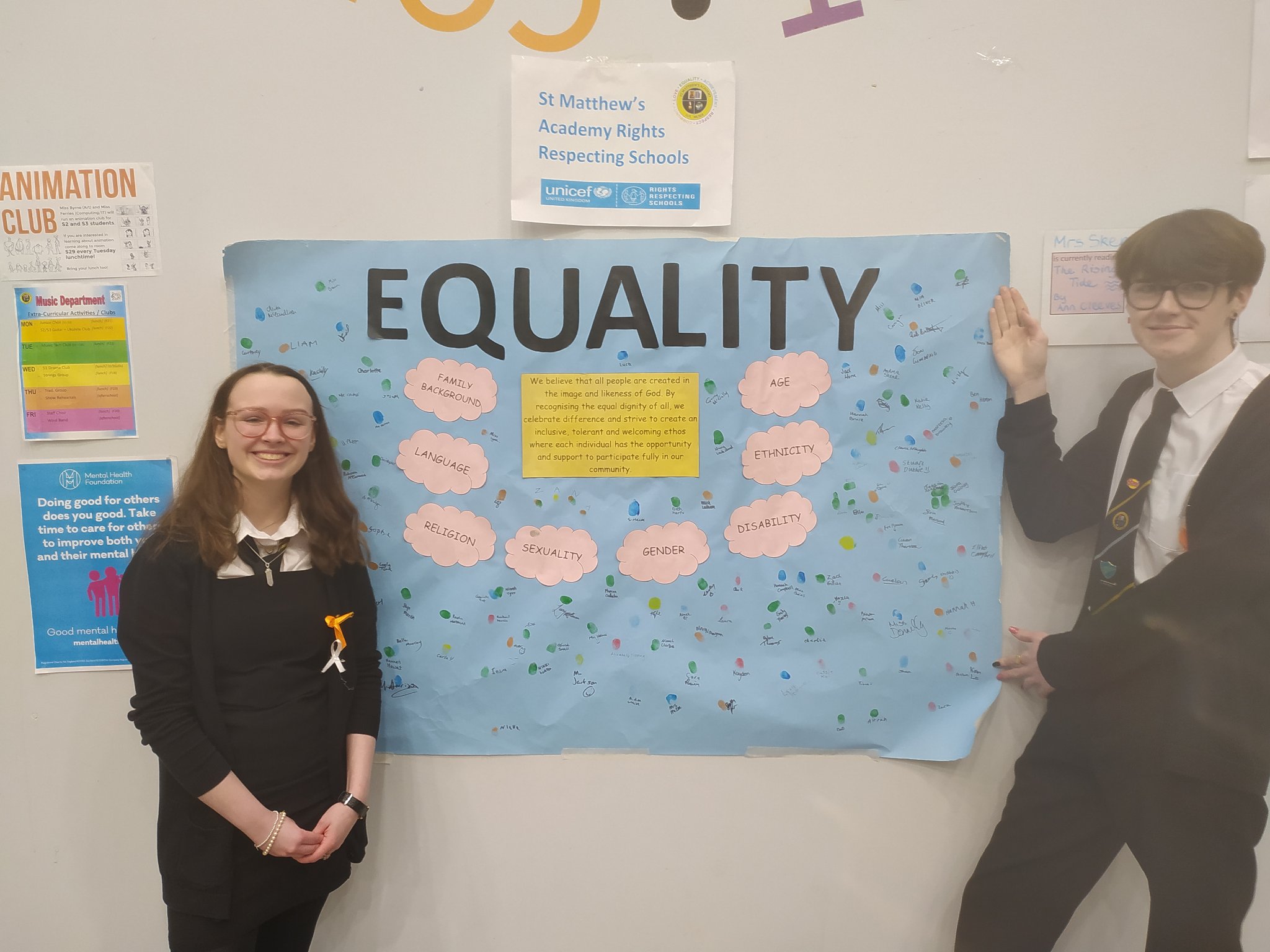 A RRS charter is a visual document that establishes an agreed set of rights-based principles upon which relationships can be based upon and are at the centre of our priorities. Pupils across the school have came together and identified 5 rights in the UNCRC that embody St Matthew's Academy as a school and linked these with our CLEAR school values.
Community –
Article 3
The best interests of the child must be a top priority in all decisions and actions that affect children.
Love – 
Article 24
All children have the right to be protected from harm and mistreatment, in body and mind.
Equality – 
Article 2
The Convention applies to every child without discrimination, whatever their ethnicity, sex, religion, language, abilities or any other status.
Achievement – 
Article 29
Education must develop every child's personality, talents and abilities to the full.
Respect – 
Article 12
Every child has the right to express their views, feelings and wishes in all matters affecting them, and to have their views considered and taken seriously.
What does the Rights Respecting School Committee do?
The role of the Rights Respecting Schools Committee is to raise awareness of children's rights across the school and the wider community to ensure every pupil knows the rights they are entitled to and highlight how St Matthew's upholds their rights. The Committee also lead initiatives to empower pupils to take action on child right's issues.
Some of the work of the committee includes:
Linking school curriculum and wider school initiatives to children's rights
Raising awareness of the UNCRC across the school through activities such as Right of the Month and Rights Week
Leading year group assemblies to raise awareness of the UNCRC
Delivering class workshops to younger pupils and local primary schools
Raising awareness, fundraising and campaigning for real world issues such as our Ukraine Appeal